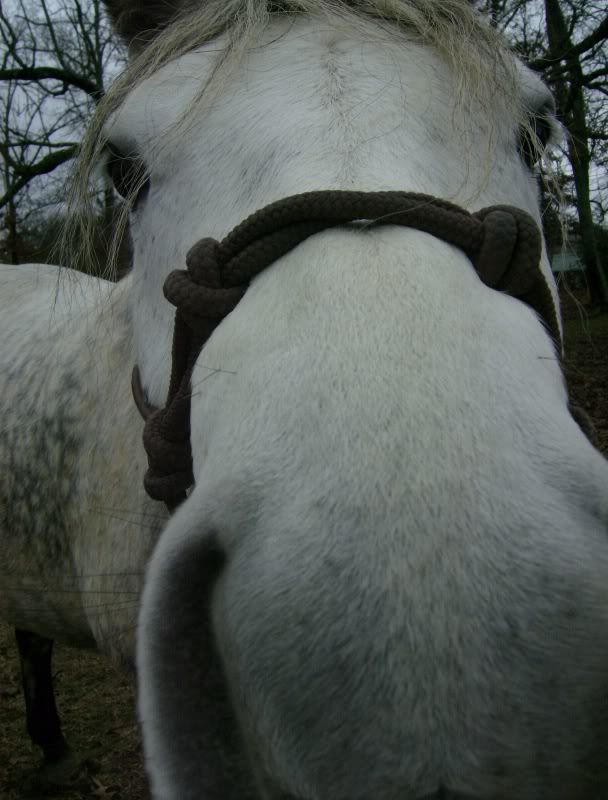 I have missed being around horses so much. Ever since I left Missouri in October I really have not had a chance to even see any horses, let alone work with them. This strange craving comes over me anytime I am away from horses for an extended period of time, it's a craving I often jokingly call my Horse Withdrawals. It's one reason I know that I am destined to work with horses. I am not content unless there is a soft mussel and a giddy whiny to greet me at the gate.
So you can understand how excited I was when a colleague of my mother's invited me over to play with their two horses. I went out on Thursday and had such a good time. They have two horses, an older Arabian mare named Rose and her 4 or 5 year old son, Pride, who is a Percheron cross. They are both beautiful and sweet horses, but I especially enjoyed playing with Pride.
Pride has never had any formal training before and so I eagerly offered to train him as much as I can before I leave for Indiana in February. Of course I cannot ride him yet, even if he were ready my doctor would have a fit if I tried to ride before my arm is completely healed. So for now I am going to be teaching Pride basic ground manors such as haltering and leading, tying, picking up his feet, giving to pressure, lunging, etc. I am really excited to work with him. He is so curious and I can tell he has an eagerness to learn. It's almost like he's just asking for someone to train him! I wish I had a longer period of time to work with him. I would love to saddle brake him. I think he has the potential to be a good dressage horse. He has the body and, better yet, he seems to have the mind for it.
I cannot wait to go out and work with him again, although that may not be until after New Years.
Here is a short video clip I made of him. It gives you a good glimpse of his personality. I hope you enjoy.
Miranda